Tonnage:
5209 gt.
Cruise ship, delivered from AB Götaverken, Gothenburg (400) in Febr.-1927, 360.5' x 50' x 30', 2 x 8 cyl. B & W, 5250 bhp, 15.64 knots, 199 passengers.


Laid up at Osterfjord in Sept.-1939 (with
Vega
and
Venus
). In Kriegsmarine control from Oct. 30-1940, commissioned as support ship, Norway, then accommodation ship from Jan. 1-1941. Returned May 10-1941. Requisitioned again from Aug. 21-1941 to Febr. 26-1942 and again from March18-1942 (support ship from Aug. 21-1941, barracks ship from March 5-1942, Narvik). Was at Skjomen near Narvik for a long time. From Sept. 1-1943 she had a German flag and crew.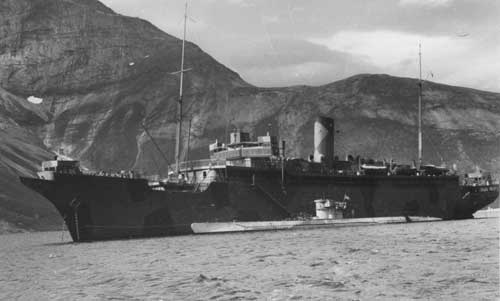 Stella Polaris in 1943 - Received from Roger Albrigtsen


When the war ended on May 8-1945 she was en route from Skjomen to Trondheim. From June 21-1945 she sailed for the Ministry of War Transport, transporting Russian prisoners of war from Mo i Rana. Arrived Oslo Aug. 18-1945 to be docked at Akers mek. Verksted, returned to Bergenske D/S in Oslo on Nov. 7-1945. Repaired by AB Götaverken, Gothenburg, delivered June 1-1946. Placed in the Bergen-Newcastle route in the summer og 1947. Sold in Dec.-1951 to Rederi-AB Clipper (Einar Hansen), Malmö, delivered in Gothenburg Dec. 11, continuing as cruise ship until 1969. In Oct. that year she was sold to International House Co. Ltd., Tokyo and used as floating hotel
Scandinavia
in Kisho near Numuba, Japan. Sold to Swedish owners Petro-Fast A/B in 2006 (for continued use as hotel), but sank Sept. 2-2006 wile in tow to a yard in China in order to be prepared for voyage to Sweden, about 280 n. miles southwest of Tokyo.
Note that a lot more history can be found at the links below, especially the first one.


Related external links:
The great Ocean Liners - This website has the complete history of Stella Polaris, and several pictures on this page.
There's also a lovely picture of
Stella Polaris on the Norwegian website Ohoi, which also has some history of this ship, and the story of someone who served on her during the war (text in Norwegian). The accompanying text says the picture was taken in Harstad in 1929, and that Fridtjof Nansen was on board. He gave a speech to the population later that day. It adds that after she had been sold to Japan, she sailed from Lisbon to Mitohama, south of Tokyo, Japan where in addition to being a restaurant she was also used as a hotel until 1999, at which time the cabin/hotel section was closed off, but the restaurant portion remained open. There are (were?) also guided tours of the ship. (The site also has a list of the world's oldest ships).
M/S Stella Polaris - Text in Swedish (the site also has a picture of her as a floating hotel in Japan).