M/T Polykarp
Updated Sept. 22-2010
To Polykarp on the "Ships starting with P" page.

Crew List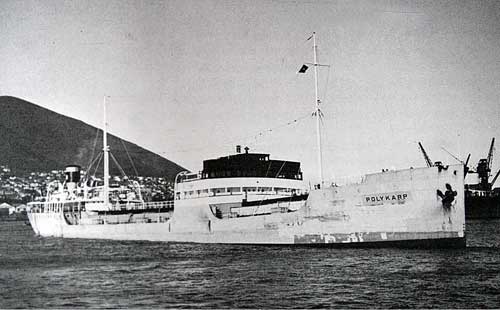 Received from Hallvard Tveit, Norway.

When named Fanny Høegh
Scanned from Leif Høegh & Co,'s fleet list and added to this website with the company's permission.


Owner: Kristiansands Tankrederi A/S
Manager: Einar Rasmussen, Kristiansand.
Tonnage: 6405 gt, 3840 net, 9200 tdwt.
Dimensions: 408' 7" x 55' 4".
Machinery: Two 6-cyl. four-stroke cycle single acting oil engines by the shipbuilders, driving twin screws. (Reengined in 1948 - see Post War details).
Signal Letters: LCUG
Completed by Eriksbergs Mekaniska Verkstads A/G, Gotheburg in Oct.-1931 as Fanny Høegh (Leif Høegh & Co. A/S, Oslo). Sold in May-1936 to A/S Kristiansands Tankrederi (Einar Rasmussen) and renamed Polykarp.


Captain: L. B. Guttormsen.


Please compare the above voyages with Arnold Hague's Voyage Record below.


  Voyage Record
From Nov.-1939 to March-1941:  
(Received from Don Kindell - His source: The late Arnold Hague's database).
Follow the convoy links provided for more information on each.
Errors may exist, and some voyages are missing (since the listing on the archive document does not start until March-1940, accuracy of these first few voyages cannot be confirmed).
1939
Nov. 18
Liverpool
Port Talbot
Nov. 19
OB 37
For Port Talbot.
Convoy available at OB 37
(external link)
Dec. 4
Milford Haven
–
–
OB 45
For Para.
With OA 45, formed OG 9, Dec. 5.
Convoy available at OB 45
(external link)
Dec. 5
Formed at sea
Gibraltar
Dec. 11
OG 9
For Para.
Convoy will be added.
See ships in OG convoys
1940
??*March 22
Milford Haven
–
–
OB 114(?)
A. Hague says:
For Para.
Dispersed 47 11N 18 59W, March 25.
Convoy available at OB 114
(external link)
*Compare w/archive document
(Also, missing voyages).
Oct. 24
Sydney, C.B.
Liverpool*
Nov. 9
SC 9
See also narrative below
*Arrived Clyde
(missing movements, archive doc.).
1941
March 4
Milford Haven
–
–
OB 294
Earlier 1941 movements:
Archive document.
Dispersed 51 29N 20 30W, March 9.
Captured - See narrative below.
Convoy available at OB 294
(external link)



Polykarp is listed in Convoy OB 37, which departed Liverpool on Nov. 18-1939 and dispered on the 21st. A. Hague gives her destination as Port Talbot, where she arrived on the 19th. The following month she appears in Convoy OB 45, departing Liverpool on Dec. 3. This convoy joined up with Convoy OA 45 on Dec. 5, the combined convoy forming the Gibraltar bound Convoy OG 9 (see my page listing ships in all OG convoys). However, Polykarp's destination is given as Para.

In March-1940, A. Hague has included her, again with destination Para, in Convoy OB 114, which left Liverpool on March 21 and dispersed on the 25th. Note that according to the archive document, Polykarp was in Texas City on March 31-1940, leaving that day for Alexandria, where she eventually arrived (via various other ports) on May 8. When war broke out in Norway on Apr. 9 she had been on her way from Havana to Gibraltar.

A French visitor to my site has told me that she had been seized off Tunisia by the French patrol boat Pen Men on May 1-1940, 8 nm bearing 30 from Cape Blanc, and ordered to Bizerta; released a few days later. Going back to the archive document, we learn that she had departed Algiers on Apr. 30 and arrived Bizerta the same day (this difference in date could simply have to do with different time zones used). She left Bizerta again on May 3, arriving Alexandria on May 8, as already mentioned.

At the beginning of Sept.-1940, she's mentioned in the slow Sydney (C.B.)-U.K. Convoy SC 3, from which the Norwegian Lotos was sunk, and which had a large number of Norwegian ships. However, there's a note for Polykarp saying "to be held at Sydney"* and she's listed again in Convoy SC 5, with the same note attached. She eventually got away in Convoy SC 9 on Oct. 24, and arrived Clyde Nov. 9.
* Convoy SC 3 left Sydney, C.B. on Sept. 2-1940; according to the archive document, Polykarp had not arrived that port until Sept. 8, having sailed from Aruba on Aug. 24.


The German battle cruisers
Scharnhorst
and
Gneisenau
became a serious threat to shipping in the Atlantic early on in 1941. In the course of Febr.-1941 they cruised as far south as the Cape Verde islands, sank a steamer there, then headed north again. On March 15-1941 they attacked 4 tankers that had belonged to the dispersed Convoy OB 294, position 40 30N 43 45W (northwest of the Azores). This convoy had left Liverpool on March 5 and was dispersed on the 9th - ref. external link provided in the table above;
Bianca, Hada County
and
Heina
are also listed.
Polykarp
had started out from Milford Haven on March 4 and was bound for Aruba.
The British Simnia tried to get away, while at the same time sending out a distress signal, but in doing so was sunk right away. Three other ships, the Norwegian Bianca and Polykarp and the British San Casimiro followed the order to stop and had prize crews placed on board. (My page about Bianca has the names of the ships that were sunk). Roger W. Jordan gives the position for capture as 45 40N 23 26W, while Leif Høegh's fleet list gives 39N 43W, about 750 miles northwest of the Azores. See also some entries to my Ship Forum.
Captain Guttormsen and Gunner Tollev Tjelmeland were transferred to Scharnhorst, where they stayed for 4 days before being moved to a German tanker and taken to Brest 2 days later. The gunner was sent to Hamburg after 2 weeks, where he stayed another 3 weeks before he was sent home to Norway, arriving on May 10. It wasn't long before he was ordered to report for German sea service, but managed to escape to Shetland with 29 others in the small vessel Straumøy (H 42 Fj) on Aug. 31-1941. On Sept. 19 he joined Suderholm, later Hindanger, then Brand and later Petter II.
Meanwhile, Polykarp and her crew reached the Gironde inlet on March 24 under the command of Leutenant Klemp. She was renamed Taifun (May-1941?) and served as a naval oiler with the Kriegsmarine. Sunk by allied aircraft off Kjelnør on May 3-1945, but later salvaged. A posting to my Ship Forum by Theodor Dorgeist adds that she had also sunk following a collision with the Norwegian Fjæra near Sunnhordland on Aug. 9-1942. Raised Sept. 1 and repaired. He says that the aircraft that sank her in 1945 was from Special Anti Shipping Squadrons 236 and 254.


The captured crew - a personal account:
In the very last issue of the Norwegian magazine "Krigsseileren" for 2000 there's an article written by Søren Brandsnes who was on board Polykarp at the time of capture. He says they were sent to a camp (an old barn) on arrival Bordeax, before being transferred to Germany by train a few days later. According to him there were about 1500 prisoners from various nations on this train, and he adds they didn't get much to eat on the 3 day journey. They ended up at Marlag und Milag Nord; his prisoner ID number was well above 85 000. He says the Chinese and Indian prisoners in the camp were treated very badly, but as for themselves they did not suffer any harm.
At the beginning of May-1941, about 800 Norwegian prisoners arrived Oslo on the German Donau* - almost 600 of those were from the captured whalers (see Capture of the whaling fleet), others were from Sandefjord, Storstad, Nordvard, Ringwood and Granli - follow the links for info on what had happened to these ships. Before long he started to plan his escape to the U.K., and together with a friend he purchased a boat which was fitted out with the necessary gear for the trip across the North Sea. They departed Udvåre near Lindesnes on Aug. 17-1941 and after a tense voyage of 54 hours Gerhart Torp, Alf Rasmussen and Søren Brandsnes reached Aberdeen on the 20th, where they were taken to a hotel for a good rest before heading to London with several other Norwegian escapees. Once in London they even got to meet King Haakon VII and his son Crown Prince Olav. My Guestbook has a message from the son of Alf Rasmussen (the very last one), which has a link to a picture of a similar boat, as well as a picture of Søren Brandsnes (both external).
Gerhart Torp joined the Norwegian whale factory Orwell, while Alf Rasmussen and Søren Brandsnes joined Suderholm. To Søren's astonishment he suddenly stood face to face with Tollev Tjelmeland, the gunner from Polykarp who had escaped from Norway previously, so again they ended up serving on the same ship. Rasmussen was on board Bidevind when that ship was torpedoed on April 30-1942, all survived. Søren Brandsnes later served on Maridal, Petter II, Kaldfonn and Idefjord. He now lives in Kristiansand, Norway, and I had the immense pleasure of meeting him in person, when I visited the "warsailors" there in Sept.-2007. There are some pictures from that event on this page.
Dronning Maud (Queen Maud), which they had named the escape vessel, was later sold in Aberdeen. In the 1980's, Søren Brandsnes travelled to Aberdeen to try to find out what had later happened to her, but instead he found another boat used by 4 Norwegians to escape from Mandal in 1941. At the time, this vessel, which is identical to VA 92 L listed on this page, was still in use by a Stonehaven man (just outside Aberdeen) under the name Thistle A717.
*Donau was used as troop transport during the war, but was also used to transport Norwegian Jews, resistance people and political prisoners from Norway to camps in Germany, as were Goteland and Monte Rosa. When Donau departed Oslo on Nov. 26-1942, 532 Jewish men, women and children were on board, only 9 of whom survived to come home to Norway in 1945. The ship was also used to transport Russian prisoners of war who were sent to build bunkers in Norway. Additionally, she carried supplies and troops to Norway, among others injured soldiers from the 6th army who had been flown out of Stalingrad. Donau would then take fresh troops from Norway to the Eastern Front via Stettin.


(from Leif Høegh's fleet list)
:
Polykarp was salvaged in 1946 and returned to Norwegian owners (A/S Kristiansands Tankrederi). She was repaired in Gothenburg, and in 1947 she was sold to A/S Awilco (manager Anders Wilhelmsen, Oslo), and renamed Wilstar. Reengined in 1948 with two 6-cyl. two-stroke sycle single acting oil engines by S.A. Fiat S.G.M., Turin. Sold in 1963 to Christiania Spigerverk, Oslo, for breaking up and in Nov.-1963 breaking up commenced at Grimstad by Norsk Skipsopphugnings Co. A/S. The forum posting already referred to above says she was salvaged in 1945 and that she was in Gothenburg as Norwegian Polykarp with damages on Nov. 15-1945. Left Gothenburg on Oct. 2-1946 for Rotterdam (arrived Oct. 11) for repairs and delivered as Wilstar. Please note that the posting is in German, and I may have misunderstood some of the text.


Picture of this ship when named Wilstar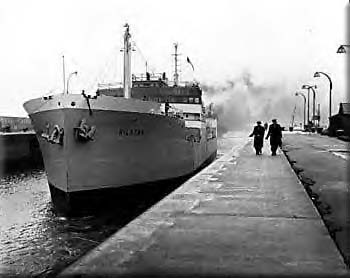 Source: Roger Jordan collection. Picture probably taken near the Manchester Ship Canal about 1955-56


Polykarp Crew List - No Casualties:
I wonder if there might be some names missing here - for instance, there's no steward or cook listed. According to this Guestbook message, Kristen Haddal, who's listed as mechanic in the the official crew list was most probably cook on board.
The 3rd mate was later arrested by Gestapo for his involvement with Milorg, and spent 2 years in Sachsenhaussen,
Captain
L. B. Guttormsen

1st Mate
Trygve Tønnesen

2nd Mate
Henry Larsen

3rd Mate
Olaf Gundersen

Carpenter
Hans Lomeland

Boatswain
Lars Spitsjø

Able Seaman
Per Andersen

Ordinary Seaman
Tom Wesøy

Ordinary Seaman
Sigurd Syvertsen

Ordinary Seaman
Hans Hillesvik

Ordinary Seaman
Rafael Palmes
(Spanish)

Jr. Ordinary Seaman
Hans Berntsen

Jr. Ordinary Seaman
Johan Rygh

Jr. Ordinary Seaman
Søren Brandsnes

Deck Boy
Harald Skøie

1st Engineer
Arne Nuland

2nd Engineer
Ivar Setnes

3rd Engineer
Karl Dahl Hope

4th Engineer
Mikal Johan Monsen

Electrician
Eddi Pettersen

Mechanic
Peter Rødland

Mechanic
Per Christensen

Mechanic
Peter Martin Sivertsen

Mechanic
Kristen C. Haddal

Pumpman
Ingvald Gullaksen

Oiler
George Hey
(British)

Oiler
Harald Strand

Oiler
Ole Yterie

Oiler
Thor Stendall

Oiler
Ingmar Skjerstad

Galley Boy
Benkowski Gerhart
(Polish)

Galley Boy
Stanley Jenkins
(British)

Mess Boy
Åge Skjerstad

Gunner
Tollev Tjelmeland
Back to Polykarp on the "Ships starting with P" page.


The Norwegian D/S Nyco was later renamed Polykarp, as was President de Vogue (both for Einar Rasmussen) - follow links for details.


The text on this page was compiled with the help of: "Nortraships flåte", J. R. Hegland, E-mail from R. W. Jordan (Post War info), articles found in "Krigsseileren, 2000 and misc. other issues of the magazine, Leif Høegh fleet list, "Sjøforklaringer fra 2. verdenskrig", Volume II (Norwegian Maritime Museum), and postings to my Ship Forum.