M/S Narvik
Updated July 13-2010
To Narvik on the "Ships starting with N" page.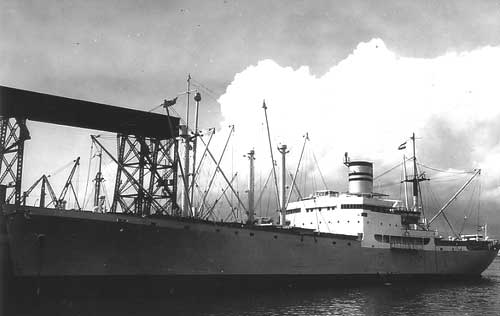 When named Siranger, post war.
Source: Bjørn Milde's postcard collection.



Manager: Nortraship
Tonnage: 5241 gt

Delivered in Jan.-1944 from Pennsylvania Shipyard Inc., Beaumont, Texas as Cape River to United States War Shipping Administration, 5241 gt, 8000 tdwt, 396.8' x 60.1' x 24.9', 2x 6 cyl. 2T Nordberg 5000 ihp, 13 knots. 1 of 10 ships transferred to the Norwegian flag in 1944, renamed Narvik. See my page "Ship Statistics & Misc." under "gains" 1944 for a list of all 10. Narvik was taken over at Beaumont, Texas, on Jan. 22.



This ship had a female Canadian radio operator named Esther Chrichton. Other Norwegian ships also had female Canadian radio operators; a list of their names and ships can be found at the end of my page about M/S Mosdale.



Her voyages are listed on these original images from the Norwegian National Archives:
Page 1 | Page 2


Please compare the above voyages with Arnold Hague's Voyage Record below.



  Voyage Record
From Febr.-1944:

(Received from Don Kindell - His source: The late Arnold Hague's database).

Follow the convoy links provided for more information on each.

Errors do exist, and several voyages are missing.
1944
Febr. 5
Pilottown
Key West
Febr. 8
HK 189
Pilottown to Key West.
Convoy available at HK 189
(external link)
Febr. 8
Key West
Gitmo
Febr. 11
KG 687
Convoy available at KG 687
(external link)
Febr. 13
Gitmo
Cristobal
Febr. 17
GZ 59
Convoy available at GZ 59
(external link)
Missing voyages, Page 1
As can be seen when going to Page 1, the above 3 entries agree with the information found on that document, but please note that the next 3 voyages in A. Hague's record do not fit with the Norwegian Narvik's movements and should be ignored - see also my narrative below. Page 1 also shows her 1945 voyages as well as a couple of 1946 voyages, which continue on Page 2.
March 28
Naples
Augusta
March 29
NV 29
Voyage does not fit in, see Page 1.
Convoy available at NV 29
(external link)
1945
Apr. 5
Gibraltar
Liverpool
Apr. 14
MKS 93G
This was the Polish Narwik
Again, see also Page 1
Convoy will be added.
See ships in MKS convoys
May 2
Liverpool
New York City
May 18
ON 300
This was also the Polish Narwik
See Page 1
Convoy will be added.
See ships in ON convoys
As mentioned above, Narvik was taken over at Beaumont, Texas, on Jan. 22-1944. According to Arnold Hague, she subsequently took part, together with the Norwegian Rita, in Convoy HK 189, which departed Galveston Bar on Febr. 4 (Narvik started out from Pilottown on Febr. 5) and arrived Key West on the 8th. That same day we find her, again with Rita, in Convoy KG 687, which arrived Guantanamo on Febr. 11, and 2 days later she appears, with the Norwegian Britamsea and Fana, in Convoy GZ 59, departing Guantanamo on Febr. 13, arriving Cristobal on the 17th - ref. external links provided in the Voyage Record. From Cristobal, she proceeded to Milne Bay the following day - see Page 1.
According to the same document, she spent quite a long time at Ulithi in 1945. She had arrived there from Eniwetok on Febr. 20; departure is given as May 31 when she proceeded to Guam, with arrival June 2, continuing to Saipan Island the next day, then on to Pearl Harbour.
Page 2 shows her voyages to June-1946.
As can be seen in the Voyage Record above, A. Hague has included Narvik in Convoy MKS 93, departing Gibraltar on Apr. 5-1945, arriving Liverpool on the 14th. The following month she's said to have joined the westbound North Atlantic Convoy ON 300, departing Liverpool on May 2, arriving New York May 18. The Norwegian Carl Oftedal, Fosna, Gefion, Heranger (Commodore Vessel), John Bakke and Viggo Hansteen are also listed. Please note, however, that none of these voyages are mentioned on the archive document referred to above (Page 1). In fact, Tony Cooper, England has looked into this for me and has found that the ship in both these convoys was the Polish Narwik, ex Empire Roamer - see this external page.

The above mentioned convoys will be added to individual pages in my Convoys section in due course; in the meantime, the ships sailing in them are named in the section listing ships in all MKS convoys, and the section for ships in all ON convoys. For more information on the other Norwegian ships mentioned on this page, please see the alphabet index below, or go to the Master Ship Index.


Sold to Westfal-Larsen in Nov.-1946 and renamed Siranger. She had a Canadian female radio operator, Olive Carroll, about whom a book has been written, called "Deep Sea Sparks", ISBN 1-895590-05-1 (Cordillera Publishing Co. Box 46, 8415 Granville St. Vancouver, BC, Canada, V6P 4Z9). See the external link below. Sold in July-1959 to Montemar S.A. Commercial & Maritima, Montevideo, renamed Nortemar. Sold in March-1978 for breaking up at Karachi.


Related external links:
The story of Olive Carroll - This is the Canadian radio operator mentioned above.
Misc. convoys - By clicking on "Ship Search", using "Narvik" as keyword, several convoys will come up. Please be aware that there was also an escort vessel by this name, which will also show up in the search results (see also Gos 9). Additionally, there was a Swedish Narvik - look for the ship with (Nor) behind the name. The info on the Norwegian Narvik being in Convoy HN 14 from Norway in Febr.-1940 is incorrect, for obvious reasons; she had not been delivered yet - here's my own page about HN 14. The same is true for some of the other convoys she appears in before 1944 at the site, for instance, BX 28B (Tony has told me this should be Norvik - probably the Panamanaian Norvik listed on this site), MKS 25 and DN 27 - the ship in the latter convoy should be Narwik, according to Tony's investigations). The MKS convoy is also available on my own website at MKS 25.


Back to Narvik on the "Ships starting with N" page.


Other ships by this name: Another Norwegian Narvik is listed in the Homefleet section. Germany had a steamship named Narvik, formerly the Dutch Stad Leiden which had been taken over and renamed on completion in 1941. Struck a mine and sank in the North Sea on June 17-1943. There was also a Swedish Narvik, bombed and sunk by British aircraft near the Frisian Islands on Apr. 29-1943.


The text on this page was compiled with the help of: "Nortraships flåte", J. R. Hegland, and misc.