M/T William Strachan
Updated Nov. 13-2012
To William Strachan on the "Ships starting with W" page.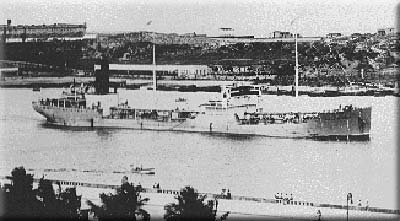 William Strachan going into Havanah.
According to a message in my Guestbook from the son of a crew member, this was taken Apr. 30-1939.
Afterdeck of ship - 1941.

The fellow in the white singlet on the left is Torvald Kibsgaard, 1941.
No. 2 on the right is Ingvald Øksenholt.
Manager: Willy Oppen & O. Sørensen, Oslo
Tonnage: 6157 gt

Built in Belfast in 1931.
In service Sumatra, Java and Borneo with oil.

All the pictures on this page were received from Thore Kibsgaard, son of Torvald Kibsgaard.



Related items on this website:
Merchant Marine Prisoners of War - Torvald Kibsgaard is among the Norwegian prisoners listed here.
A Guestbook message naming 2 crew members when on a voyage from Dunedin, New Zealand to San Francisco in Dec.-1943, the Danish Axel Johannes Jensen and the Norwegian Martin Zakariassen Bø. See also Page 3.



Her voyages are listed on these original images from the Norwegian National Archives:
Page 1 | Page 2 | Page 3 | Page 4


Please compare the above voyages with Arnold Hague's Voyage Record below.



Partial Voyage Record
From June-1940 to Febr.-1944:  

(Received from Don Kindell - His source: The late Arnold Hague's database).

Follow the convoy links provided for more information on each.
1940
June 23
Bombay
Suez
July 12
BN 1
Earlier voyages:
Page 1
Convoy available at BN 1
(external link)
Missing 1940 and 1941 voyages:
Page 1 above & Page 2
1942
Oct. 13
Bandar Abbas
–
–
PB 6
Earlier 1942 voyages:
Page 2 above.
For Melbourne.
Detached Oct. 17.
Convoy available at PB 6
(external link)
Oct. 17
Detached from PB 6
Melbourne
–
Independent
Page 2 gives arrival Nov. 15.
Missing voyages, Page 3
1943
June 23
Brisbane
Townsville
June 26
BV 70
Earlier 1943 voyages:
Page 3 above.
Convoy available at BV 70
(external link)
Subsequent voyages, Page 3
Sept. 7
Caloundra
Townsville
Sept. 10
QL 10
Convoy available at QL 10
(external link)
More missing voyages, Page 3
1944
Febr. 6
Caloundra
Townsville
Febr. 8
QL 53
Convoy available at QL 53
(external link)
Later voyages:
Page 3 & Page 4
For information on voyages made in between those mentioned here, please see the documents received from the National Archives of Norway.
According to Page 1 of the archive documents, William Strachan was on her way from Table Bay to Durban when war broke out in Norway on Apr. 9-1940. That summer, A. Hague has included her, together with Anna Odland and Svenør, in Convoy BN 1, departing Bombay on June 23, arriving Suez July 12. Her subsequent voyages can be found on the archive document, which also includes some 1941 voyages, while the rest, along with most of her 1942 voyages, are shown on Page 2. As can be seen, she appears to have spent quite a long time at Table Bay (Cape Town) that year. She had arrived there from Simonstown on July 5-1942 and departure is given as Sept. 4, when she proceeded to Saldanha Bay.
The following month we find her, along with Britannia, Ima, Norfold, Peik and Vera, in Convoy PB 6, which departed Bandar Abbas on Oct. 13-1942 and arrived Bombay on the 19th. William Strachan, however, was bound for Melbourne, where she arrived on Nov. 15 (Page 2). A. Hague says she had been detached from the convoy on Oct. 17. From Melbourne, she went to Brisbane, then headed to Los Angeles, with arrival Dec. 29-1942 and now appears to have stayed there for a long time. The departure date is difficult to decipher on Page 3 but it looks like March 22-1943 when she sailed to Lyttelton.
That summer, she's listed in Convoy BV 70, departing Brisbane on June 23-1943, arriving Townsville June 26. In Sept.-1943, she's included in Convoy QL 10, which left Caloundra on Sept. 7 and arrived Townsville on the 10th. The rest of her 1943 voyages are shown on Page 3. Her 1944 voyages also start on this document. Early that year, she's listed as sailing in Convoy QL 53, departure Caloundra Febr. 6-1944, arrival Townsville Febr. 8; again, see also the archive document.
All these convoys are available via the external links provided in the table above. More information on the other Norwegian ships mentioned here is available via the alphabet index at the end of this page, or go to the Master Ship Index.
Her 1945 voyages (and a few 1946 voyages) can be found on Page 4.


In the wrong place at the wrong time:
Torvald A. Kibsgaard worked as able seamen on this ship, but became sick and paid off in Manila on Sept. 9-1941 where he was admitted to a hospital (from
Page 2
, we learn that
William Strachan
had arrived Manila the day before). When the Japanese attacked Pearl Harbor he and some other Norwegians were transferred to a motel in the city. After the attack on Manila they were unable to get out due to the fact that Norwegian ships were directed elsewhere, so in order to avoid internment they all joined the US Navy. Torvald, age 23 was put in charge of the tug
S/S Henry Keswick
and transported supplies to Corregidor; a Norwegian engineer from Bergen was also on board (see a
Guestbook message
from the captain's grandson). On New Years Eve (after D. MacArthur had decided to withdraw) Kibsgaard was again sent to Corregidor, and from then on the 2 Norwegians transported supplies back and forth between Corregidor and Bataan.
Henry Keswick
was shelled and sunk at "North Dock", Corregidor, and in March the 2 shipmates were on the previously Chinese
S/S You Sang
. While loading bombs during the battles for Bataan,
You Sang
was sunk at the Bataan harbour Mariveles. After the fall of Bataan in Apr.-1942, Kibsgaard took part in the ammunition transport to the gun positions on Corregidor using trucks. The day after the invasion, on May 5, he was given a gun and ordered to the trenches with the other soldiers, but when he started to display symptoms of severe shock he was picked up and taken to a hospital at Malinta Tunnel, where he was diagnosed with shock as well as malaria.
After Corregidor had fallen (May 6-1942) he was ordered by the Japanese to clean up after the battles, remove the bodies etc. From then on he was a prisoner of the Japanese, first sent to Cabanatuan, then in 1943 to Batangas (both on Luzon) to help build the airport there. When the Americans bombed the airport they were working on early in 1944 he was transferred to Camp Murphy where he stayed until Oct.-1944. His next stop was the Bilibid prison, Manila where he met several other Norwegians. After MacArthur had retaken the Philippines, the Japanese wanted to avoid letting the prisoners fall into the hands of the Americans so thousands were moved to Japan. Kibsgaard and 2 other Norwegians (Johan Skulstad and Ragnvald Augustin - listed in my POW's section) were placed on the cargo ship Hokusen Maru, initially bound for Japan, but after 41 days of terror they were landed in Formosa (now Taiwan). Several ships in the convoy had been sunk by American submarines, and a lot of prisoners had died on the ship due to the horrendous conditions on board. After about 4 weeks of "resting up" on Formosa they were put on another Japanese transport and moved to Omuta, where they worked in the coal mines for about 6 months until the war was over. They are all included in the POW rosters that I've linked to at the end of this page.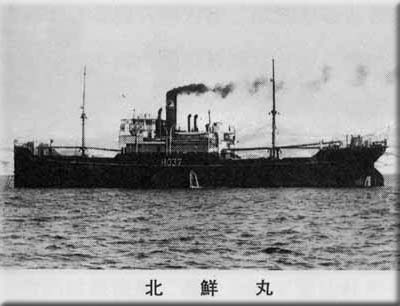 Hokusen Maru
He says the prisoners were ordered to board this ship on Oct. 1-1944, but she didn't sail until the 3rd (most Norwegian books state they left Manila at the end of that month). Incredibly, I found the story of another man who seems to have been in most of the same places at the same time, namely Ralph W. Walden - there used to be a website about him which included a detailed description of the voyage with Hokusen Maru (nicknamed Benjo Maru). It also mentioned several other events that corresponded with Torvald Kibsgaard's story, so who knows, the 2 may have known each other? The website now appears to have been taken down, and when searching for it I instead found Mr. Walden's obituary. However, I have since found his memoir on this external page, where he talks about his time in imprisonment; his descritpion of the voyage with Hokusen Maru starts here. See also this roster as well as this roster (external links).


More info on Hokusen Maru:
Built 1920, 2095 gt. Passenger/freighter built at Canadian Allis Chalmers for South American Steam Shipping (British) as
War Wombat
. Sold to Oguma & Co., Japan in 1924 and renamed
Chokyo Maru
. Sold again to Nihonkai Kisen in 1939 as
Hokusen
(meaning North Korea)
Maru
. Records indicate that she arrived Manila, from Kaohsiung, on Sept. 18-1944. In a convoy of eight ships escorted by three sub chasers, she departed Manila on Oct. 3. After losing three ships by U.S. sub attack, the convoy reached Hong Kong, instead of Kaohsiung, on Oct. 11-1944. (This corresponds with what is found in Ralph Walden's story, though he says they were underway for 3 or 4 weeks before she dropped anchor in Hong Kong, where they stayed for about 10 days before continuing to Takao, Formosa).
Some post war movements of William Strachan, according to a message on my Ship Forum, posted by R. W. Jordan (see also Page 4 of the archive documents):
Left Abadan Nov. 10-1945 for Suez. Left Piraeus Oct. 15-1948 for Abadan. Left Curacao on May 25-1949 for Cuba. Left Rotterdam Oct. 3-1950 for Bahrain. These movements are from Lloyd's Shipping Index. Additionally, the tanker held a Lloyd's Register class, and was surveyed at Oslo in March 1949. It does not appear in Lloyd's Register 1952-53 nor in Lloyd's Shipping Index in 1953 under the name William Strachan. Further responses to my query on William Strachan provide the info that she was renamed Drepanum in 1951, after having been purchased by Transmediterranea Societa di Navigazione per Azione, and managed by Compagnia de Navigazione Transmediterranea, Palermo, Sicily. Both of these companies were beneficially owned by Count Salvatore Tagliavia. Drepanum arrived La Spezia, Italy, on July 3-1963 to be broken up.


Related external links:
Stavern Memorial commemorations - Seaman Otto Normann Pettersen and Boatswain John Herman Berg are commemorated (it's possible they had served on William Strachan at some point?). Checking with "Våre falne", a series of 4 books naming Norwegians who died during the war, I find that John Herman Berg was run over by a car in San Pedro, California on March 3-1942 - he could not have been on William Strachan at the time, because from this document, we learn that she was on her way from Abadan to Durban on that date. Otto Normann Pettersen is listed in my POW's section, and judging from the date of his demise he may, in fact, have been aboard the Japanese Oryoku Maru when that ship was bombed? (though he's not included on the Oryoku Maru roster). "Våre falne" states he took part in the defense of Corregidor, was taken prisoner by the Japanese in Apr.-1942 and kept until the end of 1944/beginning of 1945(?), when he was sent to Japan, but died when the transport was sunk. In "Nordmenn i fangenskap", Kristian Ottosen gives the same information for Otto Normann Pettersen as he does for Egil Andreassen (also named on my POW's page), "Arrested May 6-1942, transferred Cabanatuan, transferred Bilibid, died Dec. 15-1944". Andreassen and some other Norwegians can be found on the roster for Oryoku Maru, which is available on this external page (large file - takes a while to load). See also the alphabetical list on this page. Going back to "Våre falne", we find that he took part in the defense of Manila but was taken prisoner by the Japanese and died during a transport from Manila to Japan on Dec. 15-1944, in other words, the date Oryoku Maru was sunk.
Taiwan Camps - Includes an alphabetical list of names of prisoners. Torvald Kibsgaard can be found under the K's, camp is given as SH=Shirakawa, Formosa. Other Norwegians are also named, including Johan Skulstad (though his name is misspelt) and Ragnvald Augustin. It'll be noticed that Ralph W. Walden, mentioned in the narrative above, is included under W. The site also has several related links.
Camp Fukuoka Roster - Torvald Kibsgaard is included as are Johan Skulstad and Ragnvald Augustin (and possibly also other Norwegians, but I have not checked the entire list; here's the main page).
I also found Torvald Kibsgaard and his friends Johan Skulstad and Ragnvald Augustin listed on
a master roster for Kyushu POW camps - but as can be seen, the master roster no longer seems to be available, not even from the link posted on the main roster page of the site on this page. Camp # 17 Omuta was listed behind their names. It's possible the page has been moved, but I cannot find it. Captain Karl Hjalmar Hansen of Scotia was also on this roster - he's also mentioned on this page.


The text on this page was compiled with the help of: "Nortraships flåte", J. R. Hegland, "Handelsflåten i krig", Guri Hjeltnes, "Ingen nåde", Kristian Ottosen, and E-mails from T. Kibsgaard's son Thore.