M/S Benjamin Franklin
Updated Sept. 9-2014
To Benjamin Franklin on the "Ships starting with B" page.

Crew List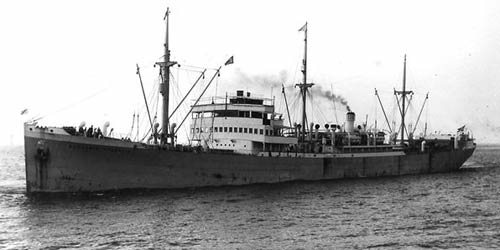 This picture was received from Sverre Johansen (postcard collection).
Uboat.net has another picture (external link)


Manager: Fred. Olsen & Co., Oslo
Tonnage: 7034 gt, 3960 net, 9900 tdwt.
Call Sign: LCEN.
Built by Chantiers de l'Atlantique, St. Nazaire, France in 1927.


Captain: Alf Anderssen


Related item on this website:
Guestbook message - From a relative of one of the casualties, Ludvig Aimar P. Johannsen; see crew list below.


Please compare the above voyages with Arnold Hague's Voyage Record below.


Voyage Record
From Apr.-1940 to Febr.-1941:
(Received from Don Kindell - His source: The late Arnold Hague's database).
Follow the convoy links provided for more information on each.
1940
Apr. 8
Puntarenas, Costa Rica
Los Angeles
Apr. 17
Independent
–
Apr. 23
Los Angeles
San Francisco
Apr. 24
Independent
–
Apr. 26
San Francisco
New Westminster
–
Independent
–
May 7
New Westminster
Tacoma
May 9
Independent
–
May 9
Tacoma
Los Angeles
May 14
Independent
–
May 17
Los Angeles
Balboa
May 27
Independent
–
May 28
Cristobal
Bermuda
June 2
Independent
–
June 4
Bermuda
–
–
BHX 48
(Escorted by Jervis Bay).
See link to HX 48
June 10
Bermuda portion joined main convoy
Liverpool
June 19
HX 48
(Cargo of pulp - station 35)
July 3
Liverpool
–
–
OB 178
For San Pedro.
Dispersed July 7.
Convoy available at OB 178
(external link)
July 7
Dispersed from OB 178
Cristobal
July 21
Independent
–
July 22
Balboa
Los Angeles
Aug. 3
Independent
Missing movements, archive document
Aug. 5
Los Angeles
San Francisco
Aug. 7
Independent
–
Aug. 10
San Francisco
Seattle
Aug. 13
Independent
–
Aug. 16
Seattle
Tacoma
–
Independent
–
Aug. 19
Tacoma
Columbia River
Aug. 20
Independent
–
Aug. 29
Portland, Oregon
Taku Bar
Sept. 25
Independent
Via Tientsin
(see archive doc)
Sept. 30
Taku Bar
Manila
Oct. 4
Independent
Sailing date approximate
(missing voyages, archive doc)
Oct. 25
Legazpi
Los Angeles
Nov. 15
Independent
–
Nov. 18
Los Angeles
San Francisco
Nov. 19
Independent
–
Nov. 30
San Francisco
Vancouver
Dec. 3
Independent
–
Dec. 21
Vancouver
New Westminster
Dec. 21
Independent
–
Dec. 29
New Westminster
Anacortes
–
Independent
–
Dec. 31
Anacortes
San Francisco
Jan. 3-1941
Independent
–
1941
Jan. 9
San Francisco
Los Angeles
Jan. 10
Independent
–
Jan. 12
Los Angeles
Balboa
Jan. 24
Independent
–
Jan. 25
Cristobal
Bermuda
Jan. 31
Independent
–
Febr. 1
Bermuda
–
–
BHX 107
See link to HX 107
Febr. 7
Bermuda portion joined main convoy
For Liverpool
–
HX 107
Straggled.
Sunk - See "Final Fate" below




From the archive document, we learn that Benjamin Franklin was on her way from Puntarenas to Los Angeles when war broke out in Norway on Apr. 9-1940.

That summer, we find her in the Bermuda portion of Convoy HX 48. Victo, Carmelfjell and Caledonia also took part. Mosli was scheduled (Bermuda portion), but instead joined HX 51 (Loke was also scheduled for HX 48, but had already sailed in the previous convoy, HX 47, in which Italia was sunk). Benjamin Franklin later joined Convoy OB 178; ref. link provided in the table above, the Norwegian Austvard, Hellen, Ingerfem, Margrethe Bakke, Senta and Skrim are also included in this convoy, which left Liverpool on July 3 and dispersed July 7.

More information on the other Norwegian ships mentioned here can be found via the alphabet index at the end of this page, or go to the Master Ship Index.




Benjamin Franklin left Bermuda on February 1-1941 in Convoy BHX 107, the Bermuda portion of Convoy HX 107 (with John P. Pedersen and Frontenac). She had a general cargo consisting of 8400 tons explosives, bombs and aircraft and was bound for Liverpool. According to the original convoy forms, she had station 31 when in the Bermuda portion (Local Escort for this portion was HMCS Elk, Ocean Escort was HMS Ausonia), and took station 63 when that portion joined the main convoy, which had started out from Halifax on Febr. 3. Ocean Escort for the combined convoy was HMS Laconia. Follow the link to HX 107 for more details.

The weather was very bad and she almost collided with a ship that had lost control of its steering on Febr. 10, and was somewhat damaged. She continued at slow speed to avoid damage to the aircraft on Hatch 3, 4 and 5, but she received further damages that day because of the heavy seas.

She was now separated from the convoy and on Febr. 19 at 13:30 GMT an object was spotted on her starboard side about 8-10 miles off, assumed to be a U-boat. The guns were manned and she proceeded at utmost speed while zig-zagging, but at 17:00 an object was again seen on her starboard side, though it was still too far away for them to determine exactly what it was.

At about 20:40 GMT they spotted a U-boat close by on the port quarters. U-103 (Schütze) gave hard to port and fired a torpedo that struck on the port side forward of the engine room, causing her engine to stop and she momentarily listed over, before straightening up, then started to sink quickly. According to a report presented at the maritime hearings, Benjamin Franklin had given hard to starboard when the boat was spotted, and about 20 minutes later, after 24 men had gotten clear from the starboard side in 2 lifeboats, a 2nd torpedo hit near No. 4 hatch, starboard side, where the cargo had consisted of about 1700 barrels of Acetone, and the ship sank with a giant explosion (58 50N 16 30W).

Because of the heavy weather with snow and strong winds it was impossible for the boats to stay together, and as day dawned one of the boats (aft starboard) with 17 men could no longer be seen. Earlier on it had signalled with blue flares to the forward starboard boat, but then the falling snow became so thick they could no longer see it. 1st Mate Trygve Berg's boat contained 7 men. While getting into the lifeboats they had lost 2 men, but they had later been picked up by the other boat. Chief Engineer Jørgensen had initially been in the aft boat, but finding it over crowded he transferred to the 1st mate's boat, and by that act his life was saved. They continued in snow, hail and strong winds, making it impossible to sail for the next 2 days, so they covered themselves the best they could. From Febr. 22 they sailed continuously until the afternoon of Febr. 26, when they were picked up by the corvette HMS Pimpernell and landed in Liverpool in the afternoon of Febr. 28, where the survivors were taken to Broadgreen Hospital.
There's a posting on my Ship Forum (by Platon Alexiades), saying the following:
"On the morning of 21.02.1941, the Italian submarine BARBARIGO (C.C. Giulio Ghiglieri) came across a raft with seven Norwegian survivors. Exact position is not recorded but she was near 58°25' N, 16°55' W. I believe these were survivors from BENJAMIN FRANKLIN sunk by U-103 on 19.02.1941. The Italian submarine gave them two boxes of biscuits and thus perhaps saved their lives as I believe these were seven men that were picked up by HMS PIMPERNEL on 26.02.1941".
20 Norwegians, 3 Swedish, 1 Finnish?, 2 Canadians, 1 Irish, 1 Danish and 1 Russian had lost their lives. Captain Andersen, who had been sitting down for a meal when the first torpedo struck, had been seen on the steps going up to the bridge, but he had then turned around and was never seen again. 2 of the casualties, Refrigerating Engineer Johannsen and 4th Engineer Nilsen had been in the engine room, and were believed to have gone down with the ship. The 1st mate had been on duty on the bridge with the 3rd mate. On the bridge at the time was also a lookout and of course the helmsman.
According to "Nortraships flåte", one of the crew, Boatswain Oscar Bøe may have been picked up by a passing ship, but died when that was also torpedoed shortly thereafter. This source further states that the survivors later learned that the 29 missing men from Benjamin Franklin had been picked up by the Egyptian D/S Memphis, which was wrecked in bad weather northwest of Ireland on Febr. 28, all on board were lost. I believe there's a mix up here, and that the boatswain must have been among the 17 in the missing boat; in other words, he may have been among those picked up by Memphis. The report presented at the hearings states that a 3rd boat may have been launched, adding that 2 boats with a total of 24 men were launched for sure.
The maritime hearings were held in Liverpool on Apr. 3-1941 with the 1st mate, the chief engineer (in his cabin when the first torpedo hit), the carpenter (in the mess room aft), and the ordinary seaman appearing. The latter had also been in his cabin.
U-103 had also sunk the British tanker Edwy R. Brown, also a straggler from Convoy HX 107. Other ships sunk from this convoy were the British Black Osprey (11 survivors picked up by the passing M/S Mosdale) and Empire Blanda.
For info, U-103 had also been responsible for the attack on Nina Borthen the year before - follow the link for details. See also Polyana.


Crew List:
1st Engineer Jørgensen also served on
Abraham Lincoln
.
Survivors

1st Mate
Trygve Berg

Carpenter
Georg Gertz

Ordinary Seaman
Lorang Syvertsen

1st Engineer
Konrad Jørgensen

Mechanic
Harald Brynlund

Mechanic
Einar Søderholm
(Finnish)

Oiler
Helge Hagan

Casualites

†
Captain
Alf Andersen

†
2nd Mate
Trygve Bang Nilsen

†
3rd Mate
Knut Herland

†
Boatswain
Oscar Bøe

†
Able Seaman
Eilef Kruse

†
Able Seaman
Rolf Skillingsås

†
Able Seaman
Knut Myhre
(Finnish? Norwegian?)

†
Ordinary Seaman
Gunnar Alfredsen

†
Ordinary Seaman
Jens Axelsen
(Swedish)

†
Ordinary Seaman
Gustav Håkensen
(Swedish)

†
Jr. Ordinary Seaman
Johan Bugge

†
Jr. Ordinary Seaman
Thorfinn Lund

†
Jr. Ordinary Seaman
Gordon Denton*
(Canadian)

†
2nd Engineer
A. Dahl Gundersen

†
3rd Engineer
Svend Johnny Bruer

†
4th Engineer
Karl Johan Nilsen

†
Eletrician
John Olsen

†
Mechanic
Reidar Clausen

†
Mechanic
Kjell Hansen

†
Mechanic
Thage Olsen
(Swedish)

†
Oiler
Michael Donnovan
(Irish)

†
Oiler
Kai Paulsen
(Danish)

†
Oiler
Reidar Rasmussen

†
Refrigerator Assistant*
Ludvig Johannsen

†
Steward
Harald Helgesen

†
Cook
Øistein Jacobsen

†
Mess Boy
Anatolii Ivashenkoff
(Russian)

†
Saloon Boy
Elwood James Conn*
(Canadian)

†
Helper
Knut Ragnar Eliesen

*See Guestbook message
The men denoted * are commemorated at the Halifax Memorial, Panel 18. More information on them can be found via The Commonwealth War Graves website by entering each name in the relevant search field, using WW II and 1941 in the other fields to narrow the search. Here is Gordon Denton, and here is E. J. Conn. They are also included at the Canadian Merchant Navy War Dead registry; enter "Benjamin Franklin" for ship and both will come up. All these links are external.


Related external links:
Stavern Memorial commemorations - Norwegians only are commemorated here. Unfortunately, since the website was redone, the list of casualties is no longer available; the only way to find them is by going to "Søk 2. verdenskrig" and entering each name in the field for "Personer". Some of the names are spelt a little differently from those in my list above. The 2nd mate is listed twice, once as Trygve Bernhard Bang, and once as Trygve Bang Nilsen. K. R. Eliesen is listed as cook, some of the other titles are also different. Knut Myhre is said to be Norwegian here (name given as Kurt Jarl Richmond Myhre), making it 21 Norwegian casualties instead of the 20 above.
The text on this page was compiled with the help of: "Nortraships flåte", J. R. Hegland, "Sjøforklaringer fra 2. verdenskrig", Volume I (Norwegian Maritime Museum), and misc. others for cross checking info. - ref My sources.