M/T Alcides
Updated Nov. 23-2012
To Alcides on the "Ships starting with A" page.

Crew List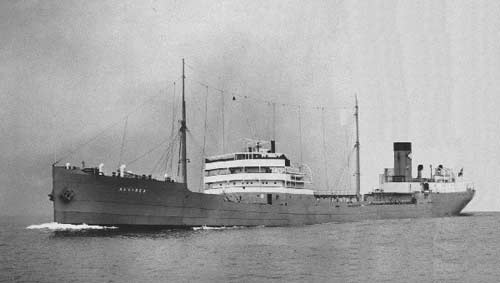 Picture received from Lillesand Sjømannsforening.



From Bjørn Milde's postcard collection.
A picture taken on board this ship is available at the Australian War Memorial (external link). The picture is from Alexandretta, Turkey, May 20-1941, and depicts a "party of men on board the Norwegian tanker Alcides on its departure from Turkey for Port Said. Amongst those on board were members of 2/2nd Battalion who had escaped from Greece and a number of escaping Norwegians". According to this Guestbook message, one of them was Hjormund Kummen, who later served on Somerville. Alcides' voyages in this period are shown on Page 2.


Owner: Dampsk. A/S Eikland.
Manager: I. M. Skaugen, Oslo
Tonnage: 7634 gt, 4852 net.
Call Sign: LDPM
Built by Barclay Curle & Co., Glasgow (639) in 1930.


Captains: Karl Henriksen, later Arne Karlsen.


In Admiralty service from 1941 (Royal Fleet Auxiliary).


Alcides
served as oiler for allied war ships at Mombasa for a while (the British had established a naval base there after the Japanese had taken Singapore). Early in the summer of 1943, she departed Mombasa alone to load a cargo at Abadan for Fremantle. For this voyage, Captain
Henriksen
was replaced by
Arne Karlsen
on July 9. A shipment of oil was loaded in Abadan, before she departed at 01:00 on July 11 (this date according to Norwegian source - Voyage Record says July 10) with expected arrival Fremantle Aug. 8. On July 13, she stopped at Khor Kuwai in order to supply
Empire Taj
with 500 tons fuel oil and other supplies, and departed again that same afternoon for a convoy port in the Persian Gulf, arriving the same evening (see also
Page 3
), leaving in convoy at 12:00 the following day, but left the convoy around midnight on the 15th as per the Commodore's orders (A. Hague says she was detached from
Convoy PB 48
on July 17 - external link), so that she was sailing alone, following the cources and instructions provided by the Admiralty, when she was torpedoed by the Japanese submarine I-10 (Tonozuka).
According to the radio operator's account, they had been awakened by a big "bang" at 04:15 on July 23, so all guns were manned though nothing further happened at that time and nobody could explain what had caused the noise. Later that morning, they had some problems with the engine and stopped to repair. By 10:00, everything was in working order and she proceeded at maximum speed, adopting a zig-zag course. At 10:30, while the radio operator was outside the radio room with the captain, 3* torpedoes hit - 1 in the middle of the stern deck, 1 in the engine room and 1 in the poop deck. Tremendous explosions resulted, columns of smoke and oil were sent high in the air, a gaping hole was seen on the port side of the after deck where oil was gushing into the sea, another gaping hole went through the area where the crew's cabins were located and into the engine room. It was thought that the 3rd torpedo had hit where the ammunition was stored, thereby causing the explosions.
* "Handelsflåten i krig", Book 4 by Guri Hjeltnes mentions a 4th torpedo hitting the ammunition store, while the official sinking report signed by the radio operator, the captain and the 2nd mate (New York Oct. 16-1945) only mentions 2 torpedoes, 1 hitting between the engine room and the bridge, the other in the engine room, position given as "about 3 degrees south and 68 degrees east".
The radio operator immediately tried to send out S.O.S., but both transmitters had been destroyed in the explosion, so all he could do was make sure all the codebooks were thrown overboard. The ship sank very quickly by the stern; only the midships lifeboat and the aft, starboard boat were intact, and the crew had great difficulties launching them. 1 fell down when one of the Indian seamen cut the lines too early and in the process, the captain was severely injured with a fracture to his spine. The radio officer, as the last one to leave, had to use a rope to lower himself into the oil covered sea, then swam across to one of the lifeboats. At this time the ship had stopped sinking, her bows pointing to the sky; it was believed that the empty foreward hold with trapped air in it delayed the speed of her sinking, thereby saving a few lives.
2nd Mate Odvar L. Olsen had command of 1 of the boats and ordered the men to row towards their shipmates in the water, while the other boat commanded by 2nd engineer Karsten Johansen followed suit. While this was taking place, Alcides disappeared in the deep and shortly thereafter the submarine came up and ordered the boats alongside, but they continued to pick up survivors from the water.
Alcides had a complement of 52 - 32 from India(?), 15 Norwegians, 1 Norwegian/American, 1 Australian and 3 British gunners. 12 were found to be missing in all, believed to have gone down with the ship or otherwise drowned, including the 3 gunners who had been on the platform getting things ready for the regular noon exercise. 1st Engineer Fridtjof Johnsen and Mechanic Andreas Ramberg were among the missing, as was the Australian Sydney Hutchinson, who had been injured and had drowned, according to 1st Mate Johan Fahlstrøm. All the others had been able to get off the ship, 40 men in 2 lifeboats.
The men on the sub were now becoming threatening and Captain Karlsen ordered both boats to go alongside, whereupon he, along with Radio Operator Johan Arthur Johansen (age 24), and 2nd Mate Odvar L. Olsen (also mentioned above) were taken on board. The prisoners, who had been placed in a tiny room on the sub, heard the shots and the screams from their shipmates as they were massacred. Total loss of men, 49.
The 3 officers stayed in I-10 for 12 days and were extensively questioned. On Aug. 4, they were blindfolded and taken ashore at Penang, Malaysia where they lived at what appeared to be a naval base for 5 days, before being taken aboard another sub on Aug. 9. On Aug. 18, a small landing craft took them from the sub and into the port of Nagasaki. From there, they were transported by train to Ofuna where they stayed for about 3 months, before being moved to Omori on Dec. 3. Please continue to my page Life in Imprisonment, which has a more detailed account on the 12 days spent in I-10 as well as summaries of various personal accounts about life at Ofuna, Omori etc.
A total of 19 Norwegian seamen from M/S Kattegat, D/T Madrono, M/T Herborg and Alcides ended up at Omori, half way between Tokyo and Yokohama, some via several other camps. Their names can be found on my POW's page.
From what I can gather, the officers from Alcides were freed by the Americans on Aug. 29-1945, taken by plane to Okinawa, then Manila, and arrived Seattle on Oct. 3-1945 aboard a troop transport. The inquiry into the sinking of Alcides was held in New York on Oct. 17-1945 with the 3 surviving officers appearing. They arrived Norway with D/S Stavangerfjord on Nov. 11-1945. Odvar Olsen died in Norway in 1982.
Jürgen Rohwer says in a footnote in his "Axis Submarine Successes" that I-10 reported the release of prisoners from a Norwegian ship. He also says that the sinking was credited to a German raider, but that there is no report of such an attack.


If Alcides did indeed have 32 from India on board (as stated in all my sources), there appears to be 1 too many here (there are 53, instead of 52). It's possible that the Chinese crewman has been included as Indian. I also notice that several of the Indian names are very similar, perhaps one of them are listed twice with a different spelling, for instance Hoosein Eussof and Hasson Eusoof might be one and the same man? Some of the names look more Italian to me that Indian, but I've been told, via this message in my Guestbook, that they were Portuguese - I'm leaving them as they are listed in the official list.
* There's a Gunner Ralph Omar Dunmore commemorated on Panel 74, Column 2 at the Portsmouth Naval Memorial. The date of his demise is given as July 23-1943 so this could very well be Alcides' gunner. More information on him can be found on this page on the Commonwealth War Graves Commision website. I also found Thomas Charles McCall, commemorated at Plymouth Naval Memorial; see this page. Edward Oswald Shannon is also listed, also commemorated at Plymouth Naval Memorial; his details can be found on this page (all these links are external)


Related external links:
Stavern Memorial commemorations - The Memorial for Seamen in Stavern, Norway lists 13 Norwegians; James Tollefsen Stargham is not mentioned (he was American/Norwegian), but there's a Mate Peder Torvildsen who's not included in the crew list. "Våre falne", a series of 4 books which names Norwegians who died during the war, states that Peder Torvildsen served on an Australian ship when he became ill and died at a hospital in Sydney N.S.W. on Jan. 2-1942; he's buried at Rockwood Cemetery. It's possible he had served on Alcides at some point(?)
Omori Tokyo Base Camp No. 1 - Includes a roster where 9 Norwegian seamen (from Alcides, Madrono, Kattegat) are listed with their POW numbers.