M/T Basilea
Updated March 14-2011
To Basilea on the "Ships starting with B" page.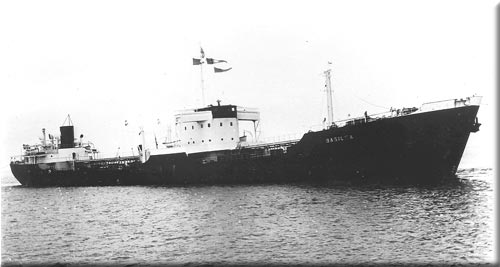 From Markus Berger, who has also told me that the name Basilea was derived from the city Basel. The Tschudi family was originally from Switzerland and most of the company's ships were named for Swiss cities, until the loss of Silvaplana.
Markus has a website about Swiss Ships (external link), which includes information on 2 other ships named Basilea.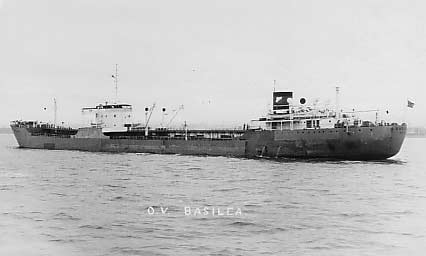 Source: Bjørn Milde's postcard collection.

The Australian War Memorial also has a picture of this ship, from Nov.-1940 (external links).


Manager: Tschudi & Eitzen, Oslo
Tonnage: 9612 gt
Built in Malmö (Kockums), Sweden in 1936.
According to this external page, she was delivered in July-1936 as Basilea to Skibs A/S Navalis (Camillo Eitzen & Co), Oslo. Tschudi & Eitzen, Oslo became managers in Jan.-1937 (same owners).


Captain (1944): Otto E. Johansen - died July-1944, see external link at the end of this page.


Related items on this website:
Guestbook message re Geoff Mead, who served on this ship.
Geoff Mead's story - Describes some voyages and life on board. He also names several crew members and mentions a Captain Madsen (prior to Captain Johansen).


Her voyages are listed on these original images from the Norwegian National Archives:
Page 1 | Page 2 | Page 3 | Page 4
Please compare the above voyages with Arnold Hague's Voyage Record below.
Voyage Record
From Dec.-1941 to Dec.-1945:
(Received from Don Kindell - His source: The late Arnold Hague's database).
Errors may exist, and several voyages are missing.
1941
Dec. 22
Singapore
Singapore
Dec. 25
Independent
Earlier voyages:
Page 1 & Page 2
A. Hague says:
After grounding
Dec. 27
Singapore
Auckland
Jan. 18-1942
Independent
–
1942
Jan. 22
Auckland
Napier
Jan. 24
Independent
–
Jan. 27
Napier
Auckland
Jan. 29
Independent
–
*
Febr. 3
Towsnville
Cairns
Febr. 4
Independent
–
* Please note that the above voyage is out of place - it belongs under 1943 and has been inserted there.
Febr. 10
Auckland
Wellington
Febr. 12
Independent
–
Febr. 13
Wellington
Los Angeles
March 9
Independent
–
March 28
Los Angeles
San Francisco
March 30
Independent
–
March 31
San Francisco
Auckland
Apr. 30
Independent
–
May 1
Auckland
Wellington
May 4
Independent
–
May 8
Wellington
Lyttleton
May 8
Independent
–
May 14
Lyttleton
Los Angeles
June 8
Independent
–
July 2
Los Angeles
San Francisco
July 3
Independent
–
July 5
San Francisco
Sydney, N.S.W.
July 31
Independent
–
Aug. 2
Sydney, N.S.W.
Newcastle, N.S.W.
Aug. 3
Independent
–
Aug. 11
Newcastle, N.S.W.
Talara
Sept. 6
Independent
–
Sept. 10
Talara
Callao
Sept. 12
Independent
Notional sailing date
Sept. 17
Callao
Talara
Sept. 19
Independent
–
Sept. 21
Talara
Wellington
Oct. 18
Independent
–
Oct. 23
Wellington
Lyttleton
Oct. 23
Independent
–
Oct. 28
Lyttleton
Los Angeles
Nov. 21
Independent
–
Dec. 26
Los Angeles
Brisbane
Jan. 20-1943
Independent
–
1943
Jan. 27
Brisbane
Townsville
Jan. 30
BT 37
Convoy available at BT 37
(external link)
*
Febr. 3
Townsville
Cairns
Febr. 4
Independent
–
* This voyage has been taken from 1942 entries above - see also Page 3.
Febr. 8
Cairns
Los Angeles
March 5
Independent
–
March 22
Los Angeles
Brisbane
Apr. 14
Independent
–
Apr. 16
Brisbane
Townsville
Apr. 19
BT 52
Convoy available at BT 52
(external link)
Apr. 22
Townsville
Cairns
Apr. 22
Independent
–
Apr. 27
Cairns
Los Angeles
May 23
Independent
–
May 29
Los Angeles
Portland, Oregon
June 1
Independent
–
June 4
Portland, Oregon
San Francisco
June 6
Independent
–
July 6
San Francisco
San Francisco
July 9
Independent
Put back, engine defects
July 17
San Francisco
Sydney, N.S.W.
Aug. 12
Independent
–
Aug. 14
Sydney, N.S.W.
Port Kembla
Aug. 15
Independent
–
Aug. 17
Port Kembla
Los Angeles
Sept. 9
Independent
–
Sept. 20
Los Angeles
Melbourne
Oct. 15
Independent
–
Oct. 19
Melbourne
Sydney, N.S.W.
Oct. 21
Independent
–
Oct. 27
Sydney, N.S.W.
Talara
Nov. 20
Independent
–
Nov. 24
Talara
Lyttleton
Dec. 18
Independent
–
Dec. 25
Lyttleton
San Francisco
Jan. 16-1944
Independent
See Geoff Mead's story
1944
March 1
San Francisco
Sydney, N.S.W.
March 25
Independent
–
March 28
Sydney, N.S.W.
Brisbane
March 29
Independent
–
Apr. 5
Brisbane
Talara
Apr. 29
Independent
–
May 1
Talara
Brisbane
May 28
Independent
–
June 1
Brisbane
Townsville
June 3
Independent
–
June 6
Townsville
Cairns
June 6
Independent
–
June 9
Cairns
Gladstone
June 11
Independent
–
June 11
Gladstone
Talara
July 7
Independent
–
July 13
Talara
Talara
July 14
Independent
Put back, master dead
July 16
Talara
Sydney, N.S.W.
Aug. 14
Independent
–
Aug. 17
Sydney, N.S.W.
Newcastle, N.S.W.
Aug. 17
Independent
–
Oct. 5
Newcastle, N.S.W.
Khor Kwai
–
Independent
–
Oct. 31
Khor Kwai
Abadan
Nov. 2
Independent
–
Nov. 4
Abadan
Brisbane
Dec. 5
Independent
–
Dec. 9
Brisbane
Gladstone
Dec. 11
Independent
–
Dec. 12
Gladstone
Townsville
Dec. 13
Independent
–
Dec. 14
Townsville
Newcastle, N.S.W.
Dec. 18
Independent
–
Dec. 31
Newcastle, N.S.W.
Abadan
Jan. 27-1945
Independent
See also Page 4
1945
Jan. 30
Abadan
Brisbane
March 3
Independent
–
March 11
Brisbane
Abadan
Apr. 8
Independent
Again, see Page 4
Apr. 11
Abadan
Fremantle
May 2
Independent
–
May 5
Fremantle
Hobart
May 12
Independent
–
May 13
Hobart
Melbourne
May 15
Independent
–
June 25
Melbourne
Newcastle, N.S.W.
June 27
Independent
–
June 29
Newcastle, N.S.W.
Manus
July 7
Independent
–
July 11
Manus
Subic Bay
July 20
Independent
–
July 21
Subic Bay
Manila
July 22
Independent
–
July 23
Manila
Subic Bay
July 23
Independent
–
Oct. 25
Subic Bay
Manila
–
Independent
–
Dec. 5
Manila
Subic Bay
–
Independent
–
Dec. 9
Subic Bay
Manila
Dec. 9
Independent
–
Dec. 12
Manila
Singapore
Dec. 18
Independent
Further voyages, Page 4
My Guestbook has
a message
re
Geoff Mead
, who served on
Basilea
. He joined her just before Christmas of 1943. For information on some of
Basilea
's 1944 voyages, please read
his story
in my "Warsailor Stories" section (some of the info in his story does not match up with the above record). He also names other crew members and says
Basilea
had an American messgirl.
Also, under the heading "A Family at War" on this page, I've included the personal story of someone whose brother was on board Basilea at some point in the war (there's also a link to the original, Norwegian version of the story). While there are no details on this ship, it's an interesting story about 5 brothers and a sister who served outside of Norway during the war; the brothers on 17 different ships altogether. Another sister was involved in "illegal" activities in Norway, as was the father.
It'll be noticed, when going to the various archive documents, that Basilea occasionally had long stays in port - the reason for some of these is explained in Geoff Mead's story above.


Renamed
Myken
in 1952 for Simonsen & Astrup, Oslo. Converted in 1955 to ore carrier. Sold in 1962 to Spanish shipbreakers.
Related external link:
Stavern Memorial commemoration - Cause is not given, but according to "Våre falne" (a series of 4 books naming Norwegians who died during the war), Captain Otto Eugen Johansen, who is commemorated at this Memorial for Seamen in Stavern, Norway, died on July 15-1944 and is buried at Talara, Peru. This is also mentioned in Geoff Mead's story, though month is given as June.


Back to Basilea on the "Ships starting with B" page.