Some of what follows may appear a complete mess, but what I'm trying to do is assemble all available information on this ship in one area, and as will be seen a lot of it is contradictory. However, I'm hoping it will serve as a basis on which to conduct further research, in case anybody is looking into this ship.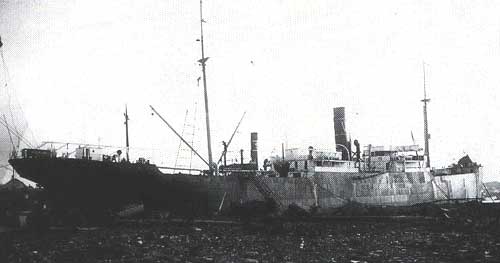 Picture shows the ship when named Sigrun. Received from Tore Setsaa,Norway.
Original source: "Våre gamle skip" (Our old ships) by Leif M. Bjørkelund and E. H. Kongshavn, included here with the permission of L. M. Bjørkelund


Still

Sigrun

When named

Lyngenfjord

. Source: Den norske Amerikalinje fleet list.

Norskehavet

- from an old brochure, believed to be from the 1930's. If that's correct, this can be the later

Ringulv


(received from Tore Setsaa).
Owner: Skibs-A/S Ringulv
Manager: Olav Ringdal, Oslo
Funnel: Black with houseflag
Hull: Grey (or black?)
Tonnage (when Lyngenfjord): 5097 gt, 3171 net, 7820 tdwt.
Dimensions (when Lyngenfjord): 390' x 52' x 27'.
Machinery (when Lyngenfjord): Three cylinder triple-expansion steam engine (400 nhp) by D. Rowan & Co., Glasgow.
Launched Apr. 16-1903 by Napier & Miller Ltd., Glasgow (Yard No. 128) as Keramiai for C.S. & A.S. Vagliano, Greece, delivered in June that year. In 1907 owner became A.S. Vagliano, Greece (my Guestbook has a message from the Grandson of this owner). Purchased in 1915 by Den norske Amerikalinje (Norway America Line) and renamed Lyngenfjord. Sold in June-1924 to H.M. Wrangell & Co. A/S, Haugesund and renamed Sigrun. Sold in 1929 to F.N. Nordbø, Haugesund, converted to herring oil factory ship (5153 gross, 3150 net) and renamed Norskehavet. Taken over in 1930 by Norsk Sildeindustri A/S, Oslo (Norwegian Herring Industry), H.M. Wrangell & Co. A/S managers. Converted to whale factory at FMV., Sandefjord. Whaling in the Arctic Ocean 1930-32 and in 1936 at the Conco field. Sold in 1936 by compulsory auction to H.M. Wrangell & Co., A/S, Haugesund. Sold in 1937 to I/S Norskehavet (Bj. Gundersen), Haugesund. Sold again in 1937 to Skibs-A/S Ringulv (Olav Ringdal), Oslo. Converted to cargo ship (4702 gross, 3150 net). Renamed Ringulv.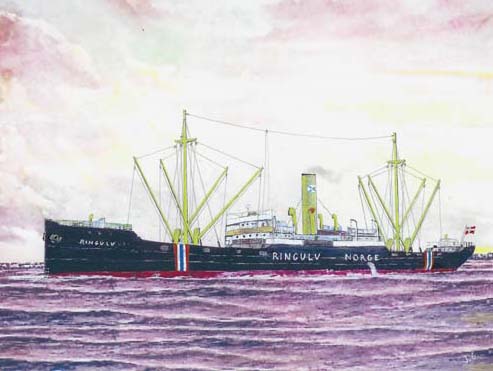 Jan Goedhart, Holland has created this painting of what he thinks Ringulv may have looked like, based on the other 2 pictures shown on this page.


See also:
Odd's War (includes a partial crew list)
Interned Ships


Captain: Thorvald Messel.
Here are some pictures of a couple of Ringulv's crew members, I've written names directly on them:
Picture 1 | Picture 2 (in Casablanca) | Picture 3 (in Casablanca) Picture 4 (in Le Havre). Odd's Album has another picture of some of the crew members. (Most of these pictures were received from Jon Veiberg, one of her crew members, who has written a book entitled "Jon's Odyssey". It can be purchased from Amazon.com. (Jon died in 2007).


Her voyages prior to being interned are listed on this original document received from the National Archives of Norway.


  Voyage Record
From Febr.-1940 to July-1940:  
(Received from Don Kindell - His source: The late Arnold Hague's database).
Follow the convoy links provided for more information on each.
Errors may exist, and some voyages may be missing.
1940
Febr. 16
Halifax
Havre
March 5
HX 20
Le Havre
See also Rudzin's Diary
Apr. 1
Swansea
Kirkwall
Apr. 4
Independent
–
Apr. 6
Kirkwall
Kirkwall
Apr. 9
ON 25
–
Apr. 10
Kirkwall
Methil Roads
Apr. 11
Independent
See also archive document
Apr. 29
Methil
Tyne
Apr. 29
MT 61
Convoy available at MT 61
(external link - incomplete listing)
May 8
Tyne
Downs
May 10
FS 166
Convoy available at FS 166
(external link - incomplete)
May 10
Downs
Havre
May 11
Independent
–
?*
June 16
Havre
Casablanca
July 2
–
Approximate departure date, seized by Vichy French.
*See narrative below.
Rudzin's Diary has info on some of Ringulv's voyages in the spring of 1940, before she in June-1940 ended up in Le Havre when the evacuations took place following the German invasion of France. Lloyd's Shipping Index for June 15-1940 says Ringulv was in Methil on Apr. 23, in Tyne on May 8 and arrived Le Havre on May 11. This matches the information found on the archive document, and also fits in with the fact that she's listed (with Gudrun, Korsfjord and Reiaas) in Convoy MT 61, leaving Methil on Apr. 29, arriving Tyne same day, as well as in Convoy FS 166, which left Tyne on May 8 and arrived Southend on the 10th (but Ringulv went to Le Havre, as mentioned). A. Hague has also included Bjørnvik, Bonde, Cetus, Eva, Iron Baron, Jacob Christensen and Siak in this convoy. The French authorities requested that captain Messel help transport to safety some of the many refugees who had flocked to the city - see Evacuation from Le Havre. Almost 1500 were taken on board Ringulv and transported to Brest. Ringulv (under French charter) then continued to Casablanca, arriving June 14(?). Interned in Casablanca on June 22*-1940.
*Sources give conflicting information on this. Some say she was interned in Oran on June 17-1940. This date conflicts with what is given on my page "Evacuation from Le Havre", which says "On June 20 Ringulv was ordered by the maritime authorities to go to Casablanca for orders". Also, in a letter written by Captain Messel to a friend, dated Casablanca Sept.15-1940 (also available on the page "Evacuation from Le Havre") he says they arrived Casablanca on June 25. I have an old letter written by my father dated Casablanca the following year, March 9-1941 (see Odd's letters, Letter No. 5), and another dated Safi, Africa, May 5 (Letter No. 6). Strangely, a letter dated May 28-1941 appears to be written in Casablanca (Letter No. 7), but judging by the postal stamp it looks like it was mailed from Safi, Morocco on June 5-1941 (it's possible he has simply written Casablanca, thinking the recipient would know that city better?). There's no mention of Oran in any of these letters. From Captain Messel's Diary it's obvious that Ringulv was at Safi when she was requisitioned on June 17-1941.

A French visitor to my site has told me that his records (presumably from French archives) indicate that Ringulv was seized in Safi in July-1940, under French flag at Safi from June 17-1941 as Sainte-Marthe, taken from Safi to Casablanca in June or July-1941. Sailed from Casablanca in convoy on July 14-1941. At Oran on July 17. A posting to my Ship Forum adds that she joined Convoy K 95 from Casablanca to Oran on July 14-1941, with arrival July 17. The ships in the convoy were Saumur, Acturus, St. Marthe (ex. Ringulv) and St. Colette (ex. Norwegian Kari), escorted by Mameluck. (This posting states she came under the French flag at Safi on June 14-1941).
As mentioned, Ringulv was eventually requisitioned on June 17-1941 and the crew placed in hotels in Safi. At the beginning of July they were sent to the first of 9 Labor Camps. Crews from Ringulv and M/S Nyhorn secretly made 4 (3?) boats out of sheets and canvas in the hold of Nyhorn, and these were used for successful escapes to Gibraltar. The last ones to escape in May-1942 were captain Messel and 2nd Mate Ingolf Valvatne from Ringulv, Nyhorn's Able Seaman Hans Johansen, Ordinary Seaman Lars Aursland and oiler Karl Linnerud, as well as Egil Strømmen from M/T Ida Knudsen. Their canvas boat Norge is on display at the Maritime Museum in Oslo.
Ringulv, meanwhile, had been renamed Ste. Marthe* and sailed under the French flag until the end of Nov.-1942, when she was taken over by the German Kriegsmarine and given her previous name of Ringulv. I've received a document from Theodor Dorgeist, Germany which indicates Ringulv / Ste Marthe had the name Norda 8 at some point while under German control. (The same document gives Norda 9 for Kari / Ste Colette and Norda 7 for Skotfoss / Ste Lucile). According to another posting on my Ship Forum Ringulv was taken over by Mittelmeer Rederei GmbH., Hamburg on Dec. 5-1942 and insured for 1.082.200 RM.
Ringulv collided with the quay in Salerno on Dec. 16-1942. Ran aground at Civitavecchia on May 4-1943. Torpedoed and sunk on June 14-1943 by the British submarine HMS United (Roxburgh) in the Straits of Messina, 1 mile south of Capo del Armi. Position given by the submarine was 37 54N 15 42E. On Apr. 24-1945 750.000 N. Kr. plus 48.308,56 N. Kr. was awarded for the loss.
* Roger Jordan states in an e-mail to me: "Some good sources say that this vessel was named Ste Marthe, but she was at Toulon, France, on 23.10.43 (this date must be a misprint, the ship was sunk in June-1943) named Ste Marguerite, and the Bundesarchiv records of this vessel both as Vichy French-controlled and under Kriegsmarine requisition refer to her as having this name. Lloyd's reported that the vessel had been seized at Casablanca, but it was later proved that information was wrong; the messages concerning her seizure came from Casablanca. She was seized at Oran. The prominent German naval historian Jurgen Rohwer insists that her name was Ste Marguerite. Apparently there is a photograph in existence, which is of Ste Marguerite, and it is unmistakeably the former Ringulv. Professor Rohwer has researched this vessel quite fully and states in published works that Ringulv, ex Ste Marguerite, was torpedoed by submarine HMS United at 1130 central European time, 1230 GMT on 14 June 1943".


Back to Ringulv on the "Ships starting with R" page
See also all the links at the bottom of this page for further info related to Ringulv


Sources used to compile the info on this page: E-mail from Tore Setsaa, Norway, whose hobby it is to collect data on Notraship's ships, "Våre gamle skip" (Our old ships) by Leif M. Bjørkelund and E. H. Kongshavn, Den Norske Amerikalinje fleet list, personal correspondence with Mr. Roger W. Jordan, author of the book "The World's Merchant Fleets 1939", "Axis Submarine Successes of World War Two", Jürgen Rohwer, and some postings to my Ship Forum.